Teckru supplies spare parts for several types of cocoa processing machines. These machines include cocoa butter presses, hydraulic units, bean breakers and liquor grinders. On this page we present some of the more common spare parts.
All the mentioned parts are manufactured from European quality high-grade materials.
We offer many spare parts or replacements for all common brands directly from stock. Please contact us on which part(s) you require. After that, we will send you more information and a no-obligation quotation in short notice.
For Cocoa butter presses
We offer spares for all brands and all types of cocoa butter presses. We maintain a considerable stock of items like felt cords and filter screens to shorten delivery time.
Felt cords
Filter and support screens with Teflon cords
Filter/press plates – original or slanted groove
Closing springs
Bearing shields and bearing blocks
Complete pots and counter-pots
Replacement tie rods
Flexible hoses (either for steam or liquor)
and much more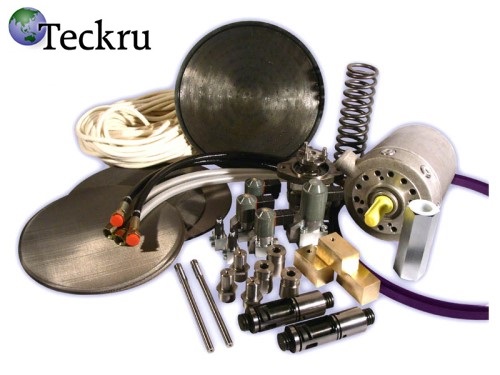 For Hydraulic units
We offer spares for all brands and types of hydraulic units used to power cocoa butter presses. We have many types of valves and filters on stock.
Hydraulic valves
Hydraulic low or high pressure pumps
Oil filters
Oil coolers
and much more
Cocoa powder milling systems
We supply spares for most types of cocoa powder mills. This includes pin mills but also the newer classifier mills.
Grinding blocks/hammers or grinding pins
Liner segments
Grinding disks
Complete classifiers
Shroud rings/diffusors
Drive and bearing housing components
Air filter candles and HEPA filter modules
and much more
Cocoa liquor grinding systems
Spares for cocoa liquor grinding systems. We offer different sizes of grinding balls for all types of cocoa liquor ball mills. For beater blade mills we have several models of blades/knives available.
Grinding balls
Milling knives
Milling disks or pins
and much more
Cocoa breakers and crushers
We supply replacement parts for cocoa breakers and crushers, such as:
Breaker hammers
Bean impact plates
Bean throwers
Many types of wear plates
and much more
Cocoa liquor gear pumps
We supply replacement parts for cocoa liquor & butter pumps, such as:
Gears
Idlers
Liners (for Duyvis and Teckru models)
Drive components (like geared motors)
and much more