Cocoa butter press
As one of the few companies in the world we supply the cocoa industry with state-of-the-art cocoa butter presses. Presses are used for pressing the butter content out of a batch of cocoa liquor, then discharging cocoa cakes with the desired leftover fat content. The leftover fat content is typically 10 to 12%. It incorporates the latest insights in both cocoa processing and machine production. All components of the press have been designed and produced to high standards, providing smooth operation and reliability for decades to come.

Hydraulic unit
Our hydraulic unit is designed exclusively for the powering of cocoa butter presses. We offer different configurations suitable for the different brands and types of presses. High capacity 14, 18 & 20 pots presses as well as CM, Vitali, Nagema/Heidenauer and Bauermeister presses. We use our custom manifold design to keep the system compact and safe.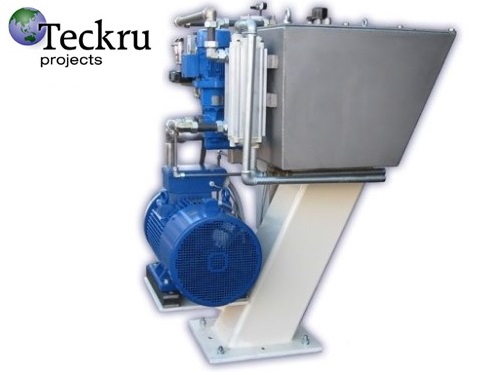 Press operator tools
Being in close contact with cocoa producers world wide, we are well aware of the daily activities in the press rooms. To aid the operators and maintenace crews, we can offer several tools to make their work easier and faster. Such as a filter plate screen tool, brace for the mounting of press plates and clamp for the fixing of press plates.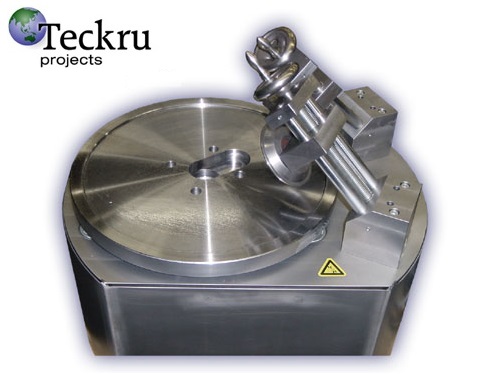 Liquor pre-heating system
This system prepares the cocoa liquor prior to pressing. It is suitable for many different types of cocoa presses. Steam is used to raise the temperature of the liquor, an agitator ensures simultaneous mixing and homogenising.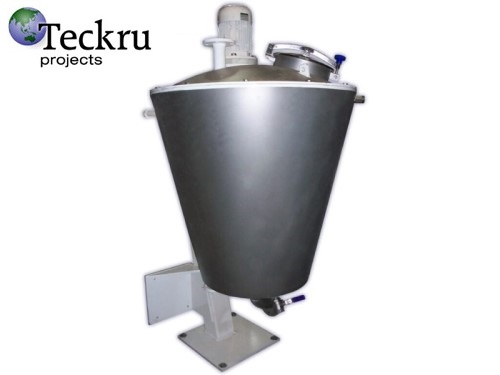 Cocoa liquor feed pump
Besides specially selected third party pumps, Teckru Projects can also offer its own design of liqour pump. This pump has been developed specifically for cocoa liquor: Excelling in wear-resistance and reliability. But even in the case of wear, this pump can easily be opened up for maintenance. We offer the pump with different drive configurations. Equipped with a large direct drive it is the best choice for filling cocoa butter presses.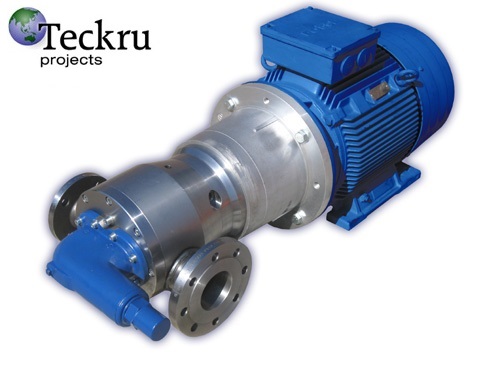 Cake conveyor
Placed under the cocoa butter press, the cocoa cakes fall in this cake conveyor. It moves the cakes towards its open end. We offer either a slide conveyor or a shaker conveyor. Both conveyor types have been developed over an already proven design, featuring increased durability.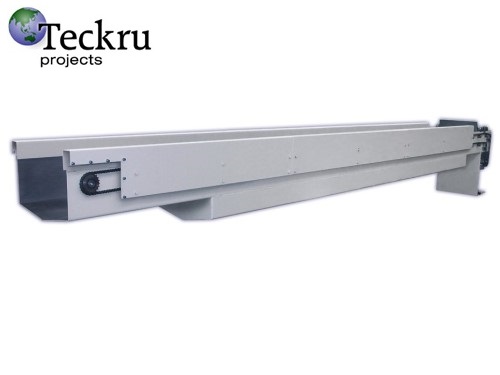 Cocoa cake breaker
The Teckru Projects cake breaker is a straightforward system to break the cocoa cakes in smaller cake kibbles. The resulting cake kibbles are of more practical size, suitable for conveyor screws or blower/suction transport. For this reason the machine is best placed early in the process, near the cocoa butter press. Also available is a casing that fits between the breaker and the end of a cake conveyor.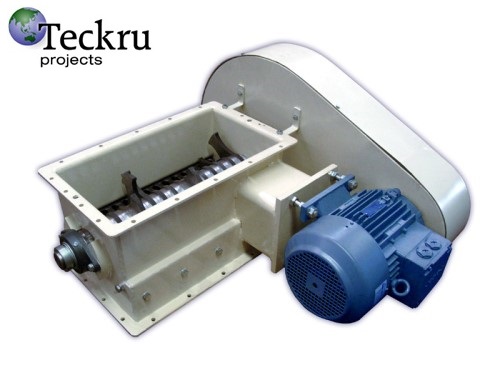 Based the latest insights in the handling of cocoa powder, Teckru can supply a very efficient stabilising system. Adding our powder stabilising unit to the TCM mill completes the system, in which the powder production process is fully enclosed. Kibbled cake from the presses can be packed as stabilized powder in just…
For continuous filtration of pressed liquid butter. It consists of a vessel containing specially designed filter candles and utilities. The filter material has been selected specifically for the processing of cocoa butter. The system features a cleaning facility that can be started when desired, to bring the filter back to optimal production…